The Toledo Lake Erie & Western Railway and Museum, Inc. is a 501(c)(3), non-profit, all volunteer organization, serving Northwest Ohio since 1969. Visit the 'Membership' tab for details on how to help! We operate on 10 miles of track between Waterville and Grand Rapids, OH, and house many pieces of historical railroad equipment.
---
The Bluebird Passenger Train is currently not running. The Volunteers at the TLE&W Railway Museum are working hard year-round to resume its operation in the near future. Your donation will help speed up the progress of its return to service.  
See our "Support Us" page for some of the many opportunities for you to help us!
---
 GIVING TUESDAY FUNDRAISER
We are seeking to raise $4000 for the construction of a wheelchair/handicap passenger cart for use on our motorcar bridge shuttle.  While the Facebook post regarding this has a goal of $1000, we hope that, through your generosity, we will be able to raise full funding for this project.

This cart will be able to hold 4 wheelchairs and an attendant for each (if necessary) so that those who cannot otherwise board our carts can still experience the view across our Maumee River bridge, as well as be able to experience a brief period of "riding the rails".  The money raised will all go for the construction of this cart, and any additional monies will go toward the purchase of a lift so we can load wheelchairs from ground level.

We hope you will consider a small donation towards this project!  Please use the "DONATE" button here on the right side of the page to donate through PayPal or send us a check to the address at the bottom of this page.  If you are donating to us for a specific project, mention it on the PayPal screen or on your check.  

THANK YOU for your interest and support!
---
Drone Footage - A Unique Perspective on the TLE&W
A drone flying above our April Motorcar Rally was capturing highlights along our line at various spots, including Hartman Rd, Heller Curve, Grand Rapids and of course, over the Maumee River! Thank you to YouTube user "Phantompilot11x" for capturing this unique perspective of motorcar operations along our line!
---

Announcing regular museum hours!

Toledo Lake Erie & Western Railway and Museum Inc.
Museum & Gift Shop
17475 Saylor Ln.
Grand Rapids, Ohio 43522
Open to the public:    Please note: Our museum is temporarily closed due to delays in renovation.
                                  We hope to be open soon!
Regular Museum hours:                           
June thru October                                                                                                                                            1st & 3rd Saturdays                                                                                                                                  Hours: 12 noon to 4 PM                                          


Other times available by appointment


Free Admission - Donations always welcome! 
---
Grand Rapids Motorcar Train Rides in 2023
STARTING MAY 6th!

Saturday and Sunday Noon-5 PM
$5/adults, $3/kids 3-12

**Father's Day June 18-Dad rides free with a paid child!**

NOTE: Weather permitting.  If you are unsure, please call to find out if we are running!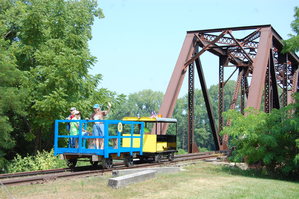 THANK YOU to all of our friends, patrons and supporters!
 *Please note-we can only accept cash at this time!  We are unable to process credit cards on-site for motorcar rides and gift shop sales.
---
We work year-round to keep our equipment and operations going! Won't you join us and help improve our operations?  There are plenty of projects to accommodate most skills!  Click on the "Become a Member" tab and download an application today!
---
Mailing Address: 
Toledo Lake Erie & Western Railway and Museum
PO Box 168
Waterville, Ohio 43566-0168
E-mail Address:
tlewtraininfo@yahoo.com