Locomotives- 
Ann Arbor #1
This locomotive was the first diesel locomotive owned by the Ann Arbor Railroad and was the dedicated switcher for their yard in Owosso, MI. It was later sold to the Dundee Cement company, then bought by a TLE&W member. This unit is now in TLE&W Museum ownership and is planned to be restored into operational condition and painted back into original its original Ann Arbor paint.
 
Whitcomb 44-DE-22
Originally Built As: AA #1
Builders Date:  January 1941
Builders Number: 60035
380 Horse Power
62
Built for the RF&P, this unit was donated to the TLE&W Museum from ADM in Ottawa Lake, MI. Like many ALCo locomotives, it was replaced by a more modern switcher. The TLE&W museum stepped in and acquired it, and we plan on painting it into RF&P and renumbered back to it's original number, #59. Photo on the right – Taken by James Claflin
 
Alco S2 #62
Originally Built As: RF&P #59
Builders Date: July 1946
Builders Number: 74663
1000 Horse Power
112
This locomotive has been a reliable part source to keep 5109 up and running since 1999.  112 was an industrial switcher for US Steel at their Rogers City, MI limestone operation before being purchased by TLE&W.  This unit will be cosmetically restored and painted into Nickel Plate colors to honor the heritage of our tracks. 
 
Alco S2 #112
Originally Built As: US Steel #112
Builders Date: September 1942
Builders Number: 69921
1000 Horse Power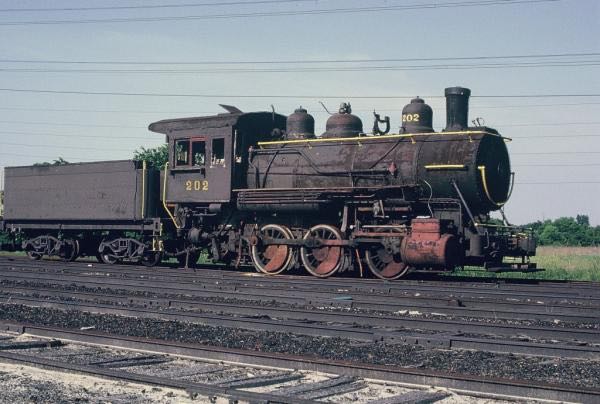 202
This locomotive operated passenger trains for many years after our organization moved to the former NKP Cloverleaf Line. It will be cosmetically restored to make it more presentable, and to save it for the eventual restoration back into operational condition.
 
Baldwin 0-6-0 Steam Switcher
Originally Built As: Detroit Edison 202
Builders Date: 1920
Builders Number: 52792
5109
Former Chesapeake and Ohio #5109, this unit served as a yard switcher for the C&O, as well as a few industrial customers before coming to the TLE&W. 5109 was used as back up until becoming our primary locomotive in 1999. Repainted and restored, this unit now runs like new. We plan to keep this locomotive as the primary locomotive on the Bluebird Passenger Train and maintenance runs.

Originally Built As: C&O #5109
Builders Date: August 1953
Builders Number: 80633
1000 Horse Power
---
Coaches-
403
Built in 1932, this former B&O heavyweight serves as the Museum Car and Meeting Car. This will be painted into full Baltimore and Ohio paint with gray B&O lettering and renumbered back to its original number B&O 3508.

Bluebird Train-
These are the coaches that have been used on the Bluebird Passenger Train in years past. Upon competition to the various metal work needed to be done on the outside, they will be painted Pullman Green with black roofs and under frames before returning in regular service.
404- This low roof trailer was built in 1930 for the Delaware, Lackawanna and Western Railroad. It was in service for the Erie Lackawanna and New Jersey Transit before being retired in 1984, where it soon made its deadhead move to the TLE&W to continue serving in revenue service.
407-  Built for the New York Central as NYC 2160 in 1928, this car was in service for quite some time; it even saw service on the Penn Central as PC 1292 for a short time before coming to the TLE&W to continue its passenger duties.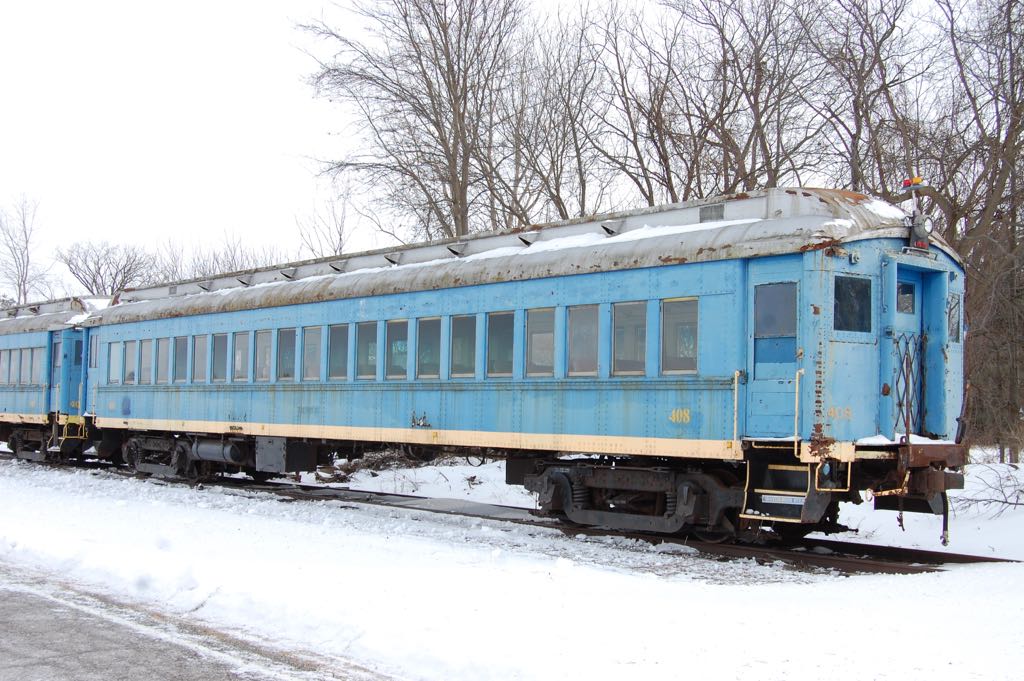 408- This car was also built for the New York Central in 1928, and numbered as NYC 2141 and also saw service on the Penn Central numbered as PC 1276. Just like 407, it was acquired by the TLE&W after a short time on PC to continue its long life of passenger service.
---
Cabooses-
475
This former Nickel Plate Bay Window caboose, which also served as Norfolk & Western 557475 for some time, is in the process of being repainted into original NKP colors. Used on the Bluebird in years past, we are working to get it on the train once again.
19189
Ex PRR/PC/CR Class N5 caboose is being restored to run on the Bluebird Passenger Train and will be painted into Conrail colors due to the abundance of Pennsylvania Railroad-painted cabooses. A select group of members have gotten together and are working to raise funds, restore, and to organize additional restoration efforts to bring this caboose back to its former glory.
75057
This Grand Trunk Western railroad transfer caboose will serve various uses for the museum and in Grand Rapids and on the Bluebird Passenger Train.
90864
A piece of equipment that was recently brought back into museum possession after falling into disrepair. Plans are to rebuild this caboose and paint it to represent the Toledo Terminal Railroad.
C-3161
Our newest acquisition.  This caboose was built by International Car in Kenton OH in 1968 for the Chesapeake & Ohio Railway.  It will remain in its Chessie System paint scheme.
---
Freight Equipment-
Ballast Hopper
This hopper car was obtained from The Andersons, where it had been used as part of grain-shuttle trains between their grain operation in Maumee, OH to their elevator on the Maumee River in Toledo.  It was originally a Wabash car.  We hope to use this car to assist in maintaining the line, but no plans have been made for the near future. Various paint schemes are in consideration for this car.
Milwaukee Road Refrigerator Car 
This old MILW Reefer is stored and unused, but we plan to give it a fresh coat of paint, and move it to a place where we can present it to the public.  It represents the movement of perishable products from the upper Midwest and the West to eastern markets.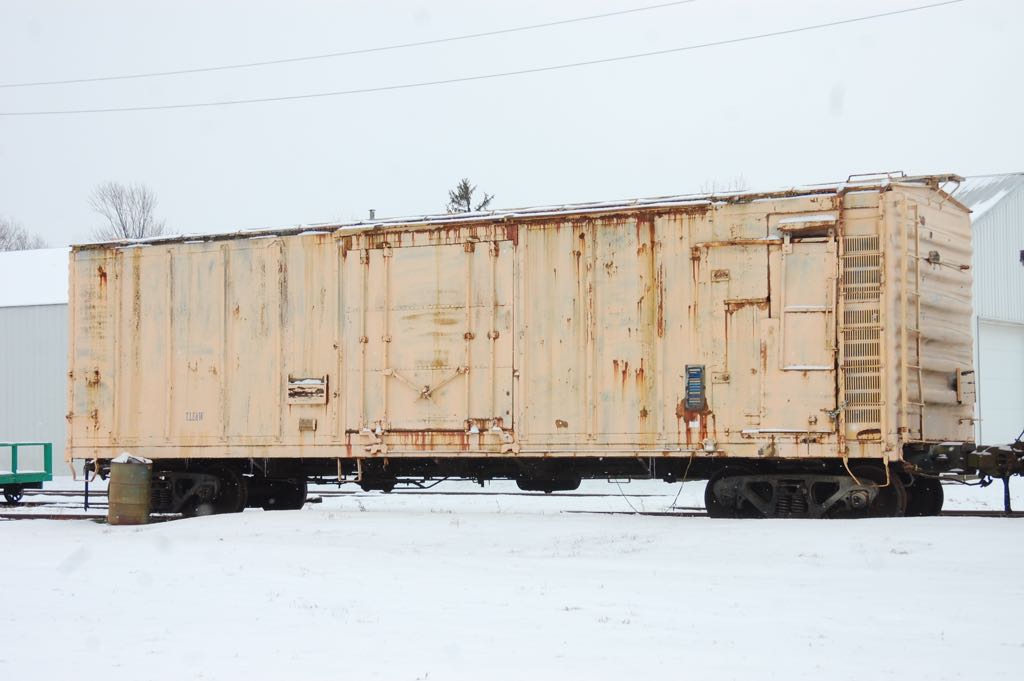 Tool Car 
Currently sitting on the museum train, and will be painted into Nickel Plate colors.
Norfolk Western 164401
This car is currently unused and stored. There are no current plans to repaint it.
Refrigerator Car
This car is currently unused and stored. Although new coat of paint may be in order, no plans have been made for the near future.  This car and our tool car were used by Hygrade Foods to haul meat to their processing plant near Detroit MI.
Wabash Flatcar 
This car was donated to the museum and will serve on work trains to haul equipment, tools and supplies.  It may also be used in the future on photo freights or to display other antique machinery that may have been hauled on it.
---
Maintenance Equipment-
Motorcar #702
Originally used on the Toledo Terminal Railroad, this motorcar has always been first choice for our members when maintaining tracks or performing inspections.
Passenger Cart
Used to transport volunteers or to give public excursions. This cart fits a small group of people comfortably with a view of all angles.
Benchcar
The Benchcar is a motorcar that has one forward facing bench that seats two people. Not used often, but when used members can go out to make track inspections before the operation of public excursions or larger maintenance operations such as tie replacement.
Ballast Tamper
Although our line was only built with cinders as ballast, this is used at select points on our line when rock ballast is put in place. Thankfully with the help of this, rock ballast has become an option on various larger projects.
Pedal Cart
Light weight, fast mode of transportation on the line that's basically a two person bicycle that fits on the track. A hitch on the back allows members to tow around light maintenance equipment without the expense of fuel.
Maintenance Flat
This simple, yet efficient car is used to haul items used for maintenance along our line such as ties and tools.
Weed Sprayer
A small cart fitted with a small tank and sprayers attached in order to keep weeds and other plants that may impede the safety of our operations.
Nolan Carts
These two small "flat" carts each have two separate parts to make off-line transportation easier. This cart is preferred by volunteers when performing smaller maintenance tasks on our line.