The Toledo, Lake Erie & Western Railway and Museum, Inc. Is a 501 (c) (3), non-profit, all volunteer organization. Serving Northwest Ohio since 1969. Visit the 'Membership' tab for details on how to help! We operate on 10.5 miles of track between Waterville and Grand Rapids, OH, and house many pieces of historical railroad equipment.
---
The Bluebird Passenger Train is currently not running. The Volunteers at the TLEW Railway Museum are working hard to resume it's operation in the near future. Your donation will help speed up the progress of it's returning to service. 
---
Knocking Down Hurdles! - SR 295 Crossing Reconstruction: Complete
This August marked a pivotal moment in returning the Bluebird back to service as our volunteers completed a complete reconstruction of the State Route 295 Crossing in Grand Rapids, OH. SR 295 (Also known as S Berkey Southern Rd,) was a major problem for the TLE&W for the last few years after it was discovered that a rail had been knocked out of alignment underneath the road surface. After many months of careful planning over the summer, it was time to close the road and rebuild the track underneath. The project took a total of five days and the road was immediately reopened after a fresh coat of asphalt. With the crossing completed, it allows for the TLE&W to be able to access points further east on our system and frees up our volunteers to move ahead with other track projects also necessary to bring the Bluebird back in service. Stay tuned for further updates!
---
Announcing regular museum hours!

Toledo, Lake Erie & Western Railway and Museum Inc.
Museum & Gift Shop
14745 Saylor Ln.
Grand Rapids, Ohio 43522
Open to the public:
June thru October 2016
1st & 3rd Saturdays
Free Admission - Donations Always Welcome 
---
TLE&W Grand Rapids Motorcar Train Rides to Return in 2017
Children 3 and under ride free, 4-14 years old $3.00, 15 and up $4.00 per person. Tickets and Boarding next to the Welcome Center entering Grand Rapids at the east end of town on 65 at our 100 year old 901′ Scenic Railway Bridge. Make a day of it and bring the family and friends and enjoy a day Riding the Rails, Visiting the Shops and Eating at the Restaurants in Beautiful Down Town Grand Rapids.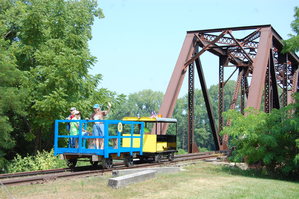 ---
Toledo Lake Erie & Western Railway and Museum Inc.
14745 Saylor Ln.
Grand Rapids, Ohio 43522
419-878-2177
---
Mailing Address: 
Toledo Lake Erie & Western Railway and Museum
PO Box 168
Waterville, Ohio 43566