The Toledo, Lake Erie & Western Railway and Museum, Inc. Is a 501 (c) (3), non-profit, all volunteer organization. Serving Northwest Ohio since 1969. Visit the 'Membership' tab for details on how to help! We operate on 10.5 miles of track between Waterville and Grand Rapids, OH, and house many pieces of historical railroad equipment.
---
The Bluebird Passenger Train is currently not running. The Volunteers at the TLEW Railway Museum are working hard to resume it's operation in the near future. Your donation will help speed up the progress of it's returning to service. 
---
Applebutter Festival 2015
The TLEW will be participating in Grand Rapids annual Applebutter Festival on Sunday, October 11th. We will provide parking, motorcar shuttles/excursions across the Maumee River, and vendor spaces. More information will be released as the date gets closer, however applications for vendors are available here:

Applebutter Vendor Application
---
 TLE&W 'Life's Better Here' Feature
Members Frank and Karen Oles were specially featured displaying our motorcars on NBC 24 during their 'Life's Better Here' segment hosted by Kim DeGiulio. Feel free to watch!
---
TLE&W Grand Rapids Motorcar Train Rides 
Motor car Rides will resume on Saturday May 9th at 11am and are scheduled to operate until 5pm. Children 3 and under ride free, 4-14 years old $2.00, 15 and up $3.00 per person. Tickets and Boarding next to the Welcome Center entering Grand Rapids at the east end of town on 65 at our 100 year old 901′ Scenic Railway Bridge. Make a day of it and bring the family and friends and enjoy a day Riding the Rails, Visiting the Shops and Eating at the Restaurants in Beautiful Down Town Grand Rapids.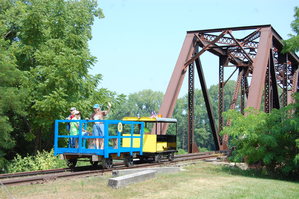 ---
Attention Motorcar Owners and Operators! TLE&W Motorcar Excursion – TBA
The TLE&W has tentative plans to host a "CLOVER LEAF" Motorcar excursion this spring! This will be our 1st Motorcar Excursion in 4 years. Current excursion plans are from Yawberg Rd to Waterville-Monclova Road approximately 15 miles round trip. (2 round trips planned, 3 if time allows.) Operators will also have the option to run 1-round trip from our New Grand Rapids Museum location at Saylor Lane over our 901′ Bridge Crossing the Maumee River to Grand Rapids Road and back, approximately 3 miles round trip. Advance paid reservation $40.00 per Motorcar. $50.00 per Motorcar at Day of registration. Motorcar Operators
Contact us at: tlewrailwaymuseum@yahoo.com Please leave us your name and address for a Application/Reservation and Liability Release form to be sent by US Mail. Planned: Date, unloading, Inspection and Departure Times will be sent by email and US Mail as the event gets closer. 
We must first complete clearing our right of way in order for these excursions to take place to ensure safety to the equipment and persons involved. The weather will determine when we are able to get out so when the sun comes out, make sure your motorcar is too! 
**This event is solely hosted by the TLE&W and is not associated with or sanctioned by Narcoa.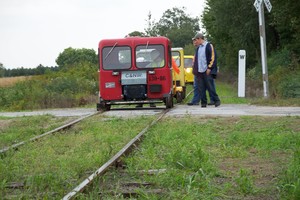 ---
Toledo Lake Erie & Western Railway and Museum Inc.
14745 Saylor Ln.
Grand Rapids, Ohio 43522
419-878-2177
---
Mailing Address: 
Toledo Lake Erie & Western Railway and Museum
PO Box 168
Waterville, Ohio 43566